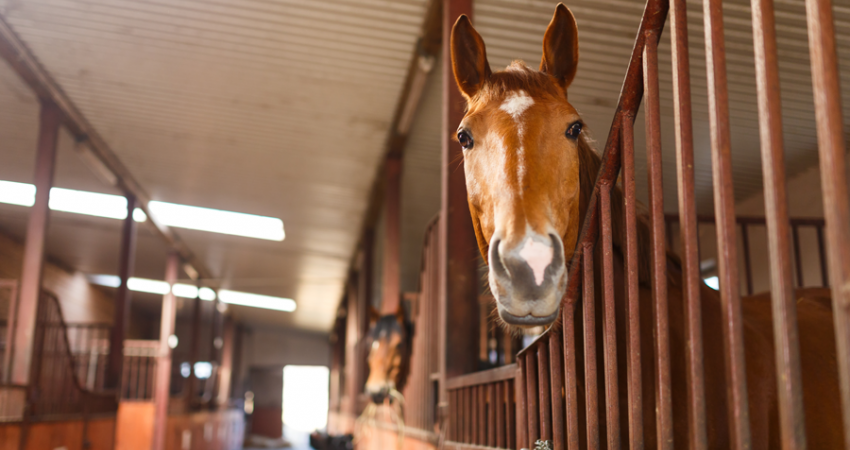 Let us help you find the perfect horse bedding
Here at Brian Lears we do not stock all types of horse bedding, but we can tell you about the distinct advantages and disadvantages of all types of horse bedding.  And if you still can't decide which is the best choice for you, we will be happy to provide you with advice.  Please feel free to contact us.
There's a huge variety of horse bedding available and making the right choice will depend on a number of factors.  So here are some pointers to help you make the right decision.
Straw 
Advantages:
Cheap
Breaks down to produce good garden manure
Visually pleasing
Disadvantages:
Bulky and messy to store
Soon makes a large muck heap
Can be difficult to dispose of, particularly if you are running a large yard. Cost of disposal can offset initial inexpensive price
Some horses are allergic to it
Some horses like to eat it and can lead to digestive problems
It does not absorb urine affectively
Wood shavings
Purpose-produced shavings are a popular type of horse bedding, but the quality can vary enormously so don't be caught in a false economy. It is important that you only buy shavings that have been specifically produced as animal bedding and if your horse has a respiratory problem dust extraction is a necessity.
Advantages:
Non-palatable
Widely available
Wrapped bales are clean and easy to handle and store
Disadvantages:
Can be difficult to dispose
Needs constant removal of droppings and care has to be taken to ensure the bed does not become wet, causing a build up of ammonia
Cheaper brands can contain high dust levels
Price can fluctuate
Wood Chippings
These are super absorbent and provide a very stable bed
Advantages:
Eco-friendly but take a long time to rot down
High absorbency
Dust-free
Disadvantages:
Don't give you the impression of a large, fluffy bed
Take a long time to decompose
Rubber matting
Wall-to-wall rubber carpet or tiles developed as a complete horse bed can save you time and money.
Advantages:
Provides a comparatively soft non-slip base, guarding against capped hocks, etc
Easy to muck out and can be hosed down
In theory, no extra bedding costs, although some prefer to use a light layer of shavings over the matting
Disadvantages:
Considerable initial capital outlay to install
Not aesthetic
Can appear cold and is slow to dry in the winter